Prof. Dr. Dr. Bernd Fischer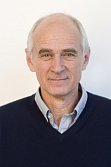 Martin-Luther-Universität Halle-Wittenberg
Institut für Anatomie und Zellbiologie
Martin-Luther-Universität Halle-Wittenberg
Große Steinstraße 52
06108 Halle (Saale)
Telefon: +49 345 557-1701
Fax: +49 345 557-1700
E-Mail: bernd.fischer@medizin.uni-halle.de
http://www1.medizin.uni-halle.de/iaz/
Funktionen
Direktor des Institutes für Anatomie und Zellbiologie, Medizinische Fakultät, MLU Halle-Wittenberg
Forschungsschwerpunkte
Physiologie und Pathologie der Frühschwangerschaft und der frühen Embryonalentwicklung bei Säugern
Beeinträchtigen Chemikalien in der Umwelt die Fortpflanzung?
Epigenetische Regulation der embryonalen Stammzelldifferenzierung
Projekte
DFG FI 306/13-1: Die entwicklungsbiologische Bedeutung der Insulin/IGF-1-Signalwege für Blastozystendifferenzierung und –entwicklung (DFG, 2004-2006)
DFG NA 418/4-2 (Mitantragsteller): Metabolische Prägung von Präimplantationsembryonen bei Säugern: Expression und Methylierung von Insulin-artigen Wachstumsfaktoren und Rezeptoren (DFG, 2008-2011)
DAAD D/07/15753: Metabolic programming: Impact of insulin and IGFs on trophoblast and placental development. (DAAD, 2008-2009)
EU REEF N°212885: Reproductive effects of environmental chemicals in females. (EU, FP7, 2008-2011)
Land Sachsen-Anhalt 5031AD/0208M: Stammzellforschung zur Entwicklung Insulin produzierender Zellen. (LSA, 2008-2010)
DAAD 0804134: Receptor signalling crosstalk as target for endocrine disruption in embryonic cells. (DAAD, 2009-2010)
Stiftung für Pathobiochemie und Molekulare Diagnostik (DGKL): Impact of endocrine active food contaminants on adipogenesis (DGKL, 2009-2012)
DAAD 50151875: Endometrial function in diabetes (DAAD, 2010-2011)
BMBF NZL 10/016: Diabetogene Subfertilität: Der Einfluß von diabetischen Entwicklungsbedingungen auf die Entwicklung und Differenzierung von Trophoblastzellen (BMBF, 2010-2011)
EU EpiHealth N°278418: Linking pertubed maternal environment during periconceptional development, due to diabetes, obesity or assisted reproductive technologies, and altered health during ageing. (EU, FP7, 2011-2013)
EU EpiHealthNet N°317146:Marie Curie Initial Training Network (EU, FP7, 2013-2017)
Publikationen (letzte 5 Jahre)
2013
Biemann R et al., Obesity Facts (2013) (accepted for publication), Adipogenic Effects of a Combination of the Endocrine Disrupting Compounds Bisphenol A (BPA), Bis(2-ethylhexyl)Phthalate (DEHP) and Tributyltin (TBT).
Schindler M et al., Endocrinology 154 (2013) 2208-2221, cAMP-responsive element binding protein: a vital link in embryonic hormonal adaptation.
2012
Biemann R et al., Biochem Biophys Res Commun. 417 (2012) 747-752, Endocrine disrupting chemicals affect the adipogenic differentiation of mesenchymal stem cells in distinct ontogenetic windows.
Fowler PA et al., Mol Cell Endocrinol. 355 (2012) 231-239, Impact of endocrine-disrupting compounds (EDCs) on female reproductive health.
Knelangen JM et al., Biochem Biophys Res Commun. 420 (2012) 230-235, Short-time glucose exposure of embryonic carcinoma cells impairs their function as terminally differentiated cardiomyocytes.
Königsdorf CAI et al., Obesity Facts. 5 (2012) 575–586, Expression profile of fatty acid metabolism genes in preimplantation blastocysts of obese and non-obese mice.
Pocar P et al., Endocrinology. 153 (2012) 937-948, Exposure to di(2-ethyl-hexyl) phthalate (DEHP) in utero and during lactation causes long-term pituitary-gonadal axis disruption in mouse male and female offspring.
Pocar P et al., Toxicol Sci. 126 (2012) 213-226, Effects of polychlorinated biphenyls in CD-1 mice: reproductive toxicity and intergenerational transmission.
Schmidt JS et al., Environmental Health Perspectives. 120 (2012) 1123-1129, Effects of Di(2-ethylhexyl) Phthalate (DEHP) on Female Fertility and Adipogenesis in C3H/N mice.
Thieme R et al., Mol Cell Endocrinol. 348 (2012) 112-119, Gastrulation in rabbit blastocysts depends on insulin and the insulin-like-growth-factor 1.
Thieme R et al., Mol Cell Endocrinol. 358 (2012) 96-103, Insulin growth factor adjustment in preimplantation rabbit blastocysts and uterine tissues in response to maternal type 1 diabetes.
2011
Horling K et al., Mol Hum Reprod. 17 (2011) 104-114, The AhR is constitutively activated and affects granulosa cell features in the human cell line KGN.
Knelangen J et al., Physiol Genomics. 43 (2011) 611-620, MicroRNA expression profile during adipogenic differentiation in mouse embryonic stem cells.
2010
Fischer S et al., Biol Reprod. 83 (2010) 859-865, Adiponectin stimulates glucose uptake in rabbit blastocysts.
Ramin N et al., Endocrinology. 151 (2010) 4158-4167, Maternal diabetes impairs gastrulation and insulin and IGF1 receptor expression in rabbit blastocysts.
Schaedlich K et al., Cytometry: Part A. 77A (2010) 990-995, A simple method to sort ESC-derived adipocytes.
2009
Seifert A et al., Toxicol. Lett. 184 (2009) 26-32, TCDD induces cell migration via NFATc1/ATX- signaling in MCF-7 cells.
Seifert A et al., Int. J. Oncol. 35 (2009) 417-424, TCDD mediates inhibition of p53 and activation of ERα signaling in MCF-7 cells at moderate hypoxic conditions.
Tonack S et al., Ann Anat 191 (2009) 485-495, Expression of glucose transporter isoforms and the insulin receptor during hamster preimplantation embryo development.
Betreuung von Doktorarbeiten (letzte 5 Jahre)
Dr. rer nat.
Nicole Ramin ??? (2009?)
Sünje Fischer: (2013)
Dr. troph.
Elisa Haucke: Vergleich der AGE-Bildung in Gewebeproben & Embryonen von diabetischen Kaninchen. (ongoing)
Dr. med.
Daniela Olatunji, geb. Nestler: Die Aktivierung des Arylhydrocarbonrezeptors während der In-vitro-Reifung von Säugetieroozyten (2010)
Katja Horling: Die KGN-Zelllinie als Modell zur Untersuchung der Rolle des Arylhydrocarbon-Rezeptors für die Physiologie und Funktion von Granulosazellen. (2010)
Cornelia Königsdorf: Fettstoffwechsel in Blastozysten adipöser und nicht-adipöser Mäuse (2011)
Friederike Neukirchner, geb. Meinhard: Beeinflussung der Expression und Lokalisation von Glukosetransportern durch Dioxin in einer Leber- und Muskelzelllini" (2011)
Luise Hunger: Einfluss von Phtalaten auf Adipogenese hESC/SGBSC (ongoing)
Johann-Christoph Jann: Interaktion von AhR und PPAR (ongoing)
Johannes Gabel: Einfluss von Diabetes mellitus auf die Genexpression im Endometrium von Kaninchen. (ongoing)
---
---